How can you improve your website's on-page SEO?
The truth is that, apart from creating compelling content, you also need to optimize your website for Search Engine Optimization or SEO to help search engines easily understand the content of your website.
Succeeding in organic search and getting more exposure calls for optimization of different factors that search engines value including on-page, off-page, and technical factors.And because the search engine is continually evolving, it is important to stay updated on SEO.
In our guide today, we will cover components of on-page SEO, how to improve on-page SEO and provide you with an on-page SEO checklist.
By the end of this guide, you will have an in-depth understanding of on-page SEO and how you can use it to rank higher on Google searches.
What Is On-Page SEO?
On-page SEO, also known as on-site SEO, involves optimizing web pages to improve your website ranking on search engine result pages (SERPS). In other words, on-page SEO involves optimizing internal aspects of your web pages to make them search engine friendly. This way, search engines can understand your site better.
If you plan to use SEO as the basis of your online marketing campaign, it is necessary that you learn the nitty-gritty of on-page SEO and its importance.
Why is On-Page SEO Important?
As mentioned earlier, on-page SEO helps search engines understand the content on your website. It also helps search engines assess the relevance of your content based on the queries asked by searchers.
Google is becoming better and better at understanding users' intent (informational, navigational, commercial, etc.) when they type a query and deliver results that are relevant to their search.
You need to adapt to these developments by ensuring your website elements (HTML tags and structural date) and its content (text, video, audio, or images), are well optimized according to the latest search engine best practices.
If you invest time and effort into on-page strategies, you will see a boost in traffic and an increase in your search ranking.
To reap the maximum benefits from your on-page SEO efforts, you need to address the advanced components of your web pages.
But before we dive into these advanced components in greater details, it would be best to understand more on the basics of on-page SEO.
What You Need to Know About On-Page SEO
By paying close attention to these 9 areas, you should be better placed make necessary changes to increase your website's ranking, traffic, and conversions.
Title Tags
There are different tags on a page with the most important one being your title tag. The title is what your visitors will see on search engines on top of your meta description. Your title tag should outline the content of your page.
When ranking web pages for specific keywords, Google looks at the title tags and compares it to the rest of the content.
To optimize your title tag, ensure that it doesn't exceed the 65-character limit and should include your targeted keyword.
Although it is less impactful, which is why it is often overlooked, creating unique, captivating title tags is important as it also increases the click-through rate.
Meta Description
This is a snippet or summary of the content in a page that appears right after the title. What you write in your Meta Description can either entice readers to open your page or make them pass on to the next page.
Do not make the mistake of writing a generic Meta Description and duplicating it across all your web pages. A well-written, concise Meta description can give you a competitive advantage in the search results by increasing click-through rates.
While this may not have a great impact on your search engine ranking, it is recommended that you have a unique Meta Description for every page of your website.
Headings
Your blog or landing page should have heading tags, from h1 to a potential h6. However, the most important one is H1.
You should only have one H1 tag per web page. Include multiple H2s or H3s to aid in navigation. These are generally the subheadings.
Image Alt-text
Images are not only an important part of on-page SEO but also improves user experience. They can help influence your site ranking.
To optimize images, you should use alt-text. Image alt-text was mainly meant to display a text instead of an image in the case where an image was not loading. However, with the change of algorithms, search engines now use alt-text to crawl images.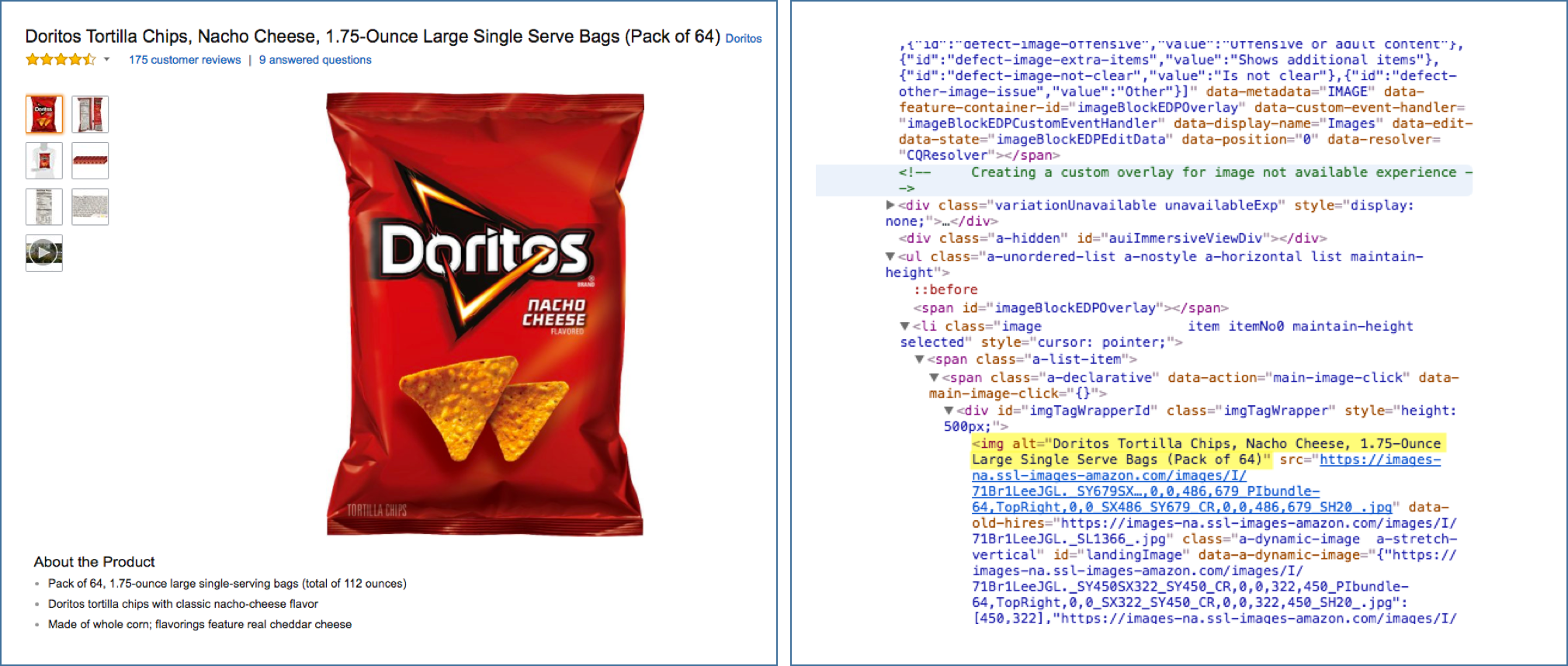 By including a keyword in the image alt-text, you can boost your ranking. Of course, you should not stuff your image tags with keywords- only insert them when applicable.
Structured MarkUp
Also called schema markup, structured markup helps search engines to understand what your web page is all about.
Lately, there are search results that come with reviews, images, or star ratings. These are structured or schema markups and the help to increase 'clickability' rate of web pages on SERPs.
People tend to be attracted to visuals, which is why you should have them on some of your pages, especially if you want to give a snippet of extra details of your product.
Having Schema markup on your pages may not make them rank higher, but it increases the click-through rate in SERPs.
Pages URLs
Uniform resource locator, shortened as URL, is the address of a webpage and it sends a strong signal to both the search engine and visitors.
The URL should tell you and search engines what the page is about and thus should be relevant to the content of the page. Therefore, integrating your target keywords in a page URL is a good SEO practice and can help boost your page ranking.
Ensure your page URLs are readable and relate to your domain name. You should avoid keyword stuffing and using special characters.
In other words, keep it simple and straightforward.
Internal Linking
Interlinks are highly impactful when it comes to on-page SEO rankings. Deep internal linking is helpful both to search engines and users.
To add either image link or text link on your page content, you should use anchor tags. An anchor text is the part of the content that holds the link. Anchor text should highlight keywords for which a page is ranking for.
By interlinking your anchor text with other pages in your website, you assist search engine bots in crawling your site.
Internal linking makes your webpage content descriptive, user-friendly, and understandable to search engines which boosts your page and website ranking.
Mobile Responsiveness
Over 80% of people browse the web using their mobile devices, which is why search engines began to prioritize on ranking mobile-responsive pages better than those which are not responsive in search results.
To improve your ranking, your website should be mobile-friendly and provide a better and faster experience for your users. Also, ensure that your website structure can perform well on small screen gadgets.
Site Speed
A slow loading site is frustrating, and research suggests that your target audience expects your web pages to load in under 3 seconds.
If a web page is not loading within a few seconds, you will experience a high bounce rate, which will ultimately affect your page ranking.
If your web pages take more than 3 seconds to load, you need to improve its speed.
Your site speed depends on your hosting service and website structure. You can start by checking these two things when you are looking to improve your site speeds.
Now, having understood the basics of on-page SEO, let's discuss how you can improve your ranking using different on-page SEO strategies.
How to Improve On-Page SEO
There are many things you can do to improve on-page SEO for your website. Here are a few steps you can take to start optimizing your website:
Optimize for Search Intent
A good way to know and understand the search intent of a person is to study pages ranking on the first page for a certain keyword. This will give you an idea of the structure of the content to create and where to place your target keywords.
You should know what the searcher is looking for when they search for certain keyword phrases. It is also important to know how the searcher would like to digest the content – how-to guides, video, tutorial, image, infographic, list of products/services, etc.
For instance, let's enter 'unclog drain' into Google search and see what kind of results are shown:
Based on our search, it is clear that most people who search the keyword 'unclog drain' are looking for how-to guides to learn how to unclog their drain.
Understanding the intent of a searcher will help you win half the battle. To learn more about how to find the intent of the searcher and how the searcher would likely want to digest information, take a look at this awesome keyword research guide for SEO.
Make Sure Website Pages Loads Fast
Recent updates in search engine algorithms placed a bigger emphasis on website load speeds. Google is likely to favour and index web pages that load faster.
Regardless of whether or not you have great, engaging content, your pages will still find themselves deep into SERPs if they load very slowly.
There are a few different elements that may be lowering your pages load speed.
One of the main elements of your site that could be affecting your speeds are the images. By compressing them, you will be able to reduce the page size and thus boost your loading speeds.
You can use a tool like TinyPNG to help you with this.
Optimizing images can boost your speed considerably, but this is not the only thing you can do.
Here are a few more tricks you can try if your site lags;
Review page elements and remove any unnecessary elements that may be adding your site load time
Enable browser caching to make it possible for repeat visitors to have faster load times
Reduce the number of plugins
You can find out what issues might be slowing down your website with Google's PageSpeed Insights or GTmetrix.com:
These are a few ways you can use to make your web pages load fast. However, if the problem persists, you may want to consult a professional SEO agency to have your site structure checked.
Strategically Place Your Target Keyword
It is a good SEO practice to place your target keyword in your Meta description, title, and H1.
When using your target keyword in the title, use it as close to the beginning as possible as this is believed to improve CTR. Keep your title within 65 characters so that it doesn't get cut off in the SERPs.
Including primary and secondary keywords throughout your content will also help with your page rankings as it helps search engines understand what your content is all about. However, try not to overuse keywords as this can be seen as keyword stuffing.
A pretty cool tool to use to is Sistrix's SERP Snippet Generator:
It will let you know if your title and meta descriptions are too long as well as show you a preview of what your link would look like in Google SERPs. It also allows you to enter your target keyword and highlight it.
Use Short, Descriptive URLs
One important aspect of on-page SEO that is often overlooked is the URLs of your web pages. Optimizing your URL structure may help to improve your ranking as it makes it easier for search engine bots to crawl and index your pages.
Google gives the first 3-5 words in a URL more weight and based on a study conducted by Backlinko.com, shorter URLs have a greater advantage than long URLs in the search results.
Here are areas you can focus on:
Optimizing permanent links
Your web pages have a permanent URL link that appears in the search results. You should optimize it by limiting it within 255 characters with hyphens separating each word.
Include your target keyword in the URL
If possible, place your target keyword not too deep into a URL. Remember to keep your URLs short and descriptive so the search engine can understand your website better.
For instance, if you have a dentistry website and you are writing an article targeting the keyword phrase 'how to floss your teeth', your URL might want to look like this:
https://yourdentalwebsite/blog/how-to-floss-your-teeth
Use Descriptive Tags for Images
In-depth, well-written content can rank better on its own, but adding images can make them stand out.
Aside from making your content look alive, you can use images to boost your ranking in the following ways;
By making use of alt tags
Search engines will not index your images directly, but it can do so through descriptions in your alt tags. Image alt tags tell the search engines what your images are all about.
Use descriptive file names
This will also help search engine bots index your images better. Use descriptive and keyword-rich file names before uploading images to your web pages.
For instance, instead of using a general file name such as image04.jpg, why not use a more specific description such as residential-roofing-services.jpg?
Adding alt texts and descriptions to your images will help make a difference for your on-page SEO efforts.
Use Schema Markup
Schema markup is a form of micro-data, which when added to a web page acts as an enhanced description. It involves adding ratings, images, reviews, or videos that are relevant to your priority pages.
Although there is no evidence that it directly improves your organic search rankings, the rich snippets can make your pages become more prominent in SERPs. This improved visibility has shown improved click-through rates.
Increase 'Topical Relevance'
Search engines use hundreds of ranking signals to rank website and its web pages. However, only a handful of these signal will show a significant increase in ranking.
In SEO, topical relevance focuses on building topical backlinks from topically relevant sources. This means you have to acquire backlinks from web pages that have relevant content to yours.
To get it right with topical relevance, create brief content around your main topic and interlink with the main topic.
Also, when getting backlinks, ensure that you acquire them from closely-related websites and web pages that are relevant to your industry.
Create High-Quality Content
All your efforts to rank your web pages will be in vain if you don't have quality, relevant content.
High-quality and relevant content for your industry is the main reason people come to your website. All other additions, such as graphics, colours, fonts, layout, etc. come secondary to good content. This is why you should focus more on creating quality content.
Here is what makes good content;
Originality – quality content needs to be original and not copied. It can include videos, infographics, and podcasts.
Non-article text – On top of text articles, it is important to have other types of content, such as image contents and videos.
Also, you should post relevant content regularly. Search engines, as well as readers, love freshly-written content published regularly.
Understand the Google Panda Algorithm
First launched in 2011, Google Panda algorithm has changed the SEO world. It is aimed at promoting content-focused, quality pages while devaluing low-quality pages.
It is, therefore, important that you understand what Google Panda algorithm is all about and how it affects your rankings.
The main purpose of this algorithm is to reward relevant, high-quality websites by ranking them higher and demoting low-quality websites in SERPs. Some of the issues addressed by Google Panda algorithm include;
Thin content
These are pages with very little content or no content at all. Google is smart enough to know pages that have no relevant content for its users.
A good example of thin content is a health page describing serious health conditions in one or two sentences. Normally, someone searching for information on these health conditions naturally expect to find in-depth content.
Low-quality content
Websites with low-quality and shallow information offer no value to the readers and are therefore demoted.
Duplicate content
Google is very serious with duplicate or plagiarized content, which is why you should always aspire to create quality and unique content.
Excessive ad-to-content ratio
Websites that have paid ads overwhelming its content give users poor experience. Such websites are always at a risk of being devalued by Panda.
Misleading content
If you insert keywords for the sake of getting traffic but fail to deliver content that matches your keywords, that is considered deceiving and may result in lower rankings due to high bounce rate.
Other issues may include content with many grammar errors, keyword stuffing, sites with no topical focus, broken or low-quality affiliate links, lack of authority, spun content, etc.
To be on the right side with Panda, create quality content that does not violate Panda's guidelines on quality content, promote better user experience such as having fast loading pages, fewer ads, fixing broken links, and improving navigation.
Avoid Low-Quality Content
As mentioned earlier, quality content is paramount and forms the basis of your on-page SEO. You may rank high or get a lot of traffic, but without quality content, you will not see any significant results. That's why you should take time to create quality content that is relevant to your audience.
Avoid Thin Content
It is also important to avoid shallow content that adds very little value to your users. Thin content has been shown to affect rankings.
If you cannot create quality content yourself, hire freelance writers to do the work for you. Thin content refers to shallow content that does not comprehensively cover the topic at hand.
Google is able to discern topics that need in-depth content and those that can be covered briefly. Therefore, create in-depth content whenever possible.
Content Freshness
Search engine's main purpose is to provide the most relevant content based on the search queries.
To help search engines understand relevant content for searchers, Google utilizes a freshness factor – this is an algorithm that gives preference to new, updated content over old, outdated content.
Just like people, Google too doesn't like stale content. This is the reason why you should post new content frequently and update your outdated content to make them relevant.
Of course, you will find some web pages with old, updated content ranking high on SERPs, but it is because they are from authority websites.
However, when you have a relatively new domain, you have to ensure the content you post is accurate, informative, and relevant.
Frequent Information Update
As we have mentioned in the above point, Google loves fresh content. But you don't have to post new content every year of a topic you have covered before.
You can easily update older content with newer and more relevant details. Ensure that you frequently update content in your webpage to make it relevant to your target audience.
Content Engagement
Engaging content is content that offers value to your audience. Engaging content can help to improve your brand awareness, and also establish your brand as an authority in your respective industry.
This fosters trust among your customers.
To create engaging content, use subheadings, diversify your content, make it shareable, have a voice, and integrate keywords.
Internal and Outbound Links
Internal links involve linking to pages within your site. This is important for SEO because it will help search engine bots crawl your pages faster and easily. It also aids in navigation.
Interlinking gives search engines an idea of where other pages are and what they are all about. Ensure that you don't overdo internal links- only add internal links when they are useful for your visitor.
On the other hand, external linking involves linking to high-quality, related websites to increase the trustworthiness of your content. Google uses external links to understand the topic you are covering better.
Now that you now know the components of on-page SEO, it is time to put this into action.
On-Page SEO Checklist
Pro Tip: Use a spreadsheet to document and keep track of the changes you make on your website.
1. Crawl Your Website
To crawl your site, set up Google Search Console for your website. This tool will help you track how your site performs in Google search.
The tool will also show you what keywords you are ranking for, how your target keywords are performing, errors on your website, and help you submit a sitemap.
If you are serious about on-page SEO, setting up your Google Search Console is a key step to start with.
2. Conduct an SEO Audit and Define Your Site Architecture
Conducting an SEO audit checks a site's health and how it is performing. An SEO audit covers different areas including keyword usage, organic search rankings, identifying problematic code, showing you how to keep up with the competition, etc.
You can use a tool like the Screaming Frog SEO Spider Tool to help you with this.
By crawling your site, an SEO audit will assess your site current situation and identify issues your website might have. It also analyzes your site structure to ensure everything is in order.
3. Update URLs, Page Titles and Descriptions
The next step is to update your page URLs to ensure they are short and includes the primary keyword you are targeting. Your page URL should also be descriptive of what the page is about.
You also need to update your title tags. Ensure they have keywords and also do not exceed the 65-character limit.
Other things to update are your Meta Descriptions. Ensure that they are compelling and include your targeted keyword in them.
4. Establish Value Proposition for Each Stage
In online marketing, you will need to give reasons to your visitors why they should trust you and do business with you.
A strong value proposition will enable you to convert more customers, gain customer trust, outperform your competitors, and command a better price.
A value proposition answers the question, "Why should I work with you and not your competitor?"
When creating content for your audience, either create content that solves a customer's problem or relieves them of fear. With this in mind, you will be able to create content and offer a product that suits your customers' needs.
5. Define Your Target Audience
Your online marketing efforts will be in vain if you are not targeting the right audience. This is the main reason you need to define your target audience.
To do this, you can do several things;
Create your customer's profile/reader persona
How old is your ideal audience?
Are they male or female?
Where do they live?
What religion/race are they?
Answering these questions will help you narrow down your ultimate target audience. Do not narrow down too much as this will limit your risk.
Other methods you can use are to:
Conduct surveys or ask questions
If you already have a general customer base, you can ask questions to know what they are looking for.
Look at your competitors
Although slightly unethical, this can be an easier way of identifying your target audience and knowing what they need.
If you still need help with defining your target audience, take a look at awesome guide on how to create a buyer persona.
After identifying your target audience, you will need to create content that suits them.
6. Plan New Page Titles
It is important to rewrite your page titles if they are not within the 50-60 character range and don't contain the main keyword in them. This will help your web pages rank better.
7. Add New Meta Descriptions
Meta Descriptions should not exceed 300 characters. Integrate your target keyword into your Meta Descriptions and make them as unique and concise as possible.
8. Track Keywords and Topics for Each Page
Tracking individual keywords is not a straightforward task, but you should still do the work to ensure that you are on the right track.
Ubersuggest can help you track how your keywords are performing. Just create a free account, enter your website credentials, and you will be able to track any keywords you like.
9. Review and Edit Page Content as Needed
Based on how your keywords are performing, you can edit your content to add relevant keywords and make them more relevant to your target audience. Relevant content will help improve your conversion.
10. Incorporate Visual Content
Adding visual content to your pages makes them interesting and alive. Ensure that you use relevant visuals and optimize them for the search engines to ensure they do not make your pages lag.
11. Add Internal Links
Interlinking not only helps to aid navigation but also makes it easier for Google to crawl and index your pages. Make sure that you are interlinking your pages to relevant pages within your site and also don't overdo it.
12. Optimize For Conversions
The ultimate goal of your online marketing efforts is to have your visitor/reader take action. This can be in the form of purchasing a product/service, joining an email list, etc.
Make sure that you optimize for conversion by having strategically placed call-to-action buttons. Also, request your reader to take action in a subtle way.
Conclusion
We have come to the end of our guide, and we do hope that this guide has helped you learn how you can optimize your web pages better, both for your target audience and search engines.
Is there anything we were missing that you can add?

Next Steps: Use These On-Page SEO Tips
Get ahead of your competitors and optimize your website with the help of this On-Page SEO guide to boost your online presence for your business.
Get started today and improve your business by implementing these On-Page SEO tips.
If you don't have the time to implement what you just learned, feel free to send us an email. We would be happy to help.
Find out more about Lazaro Lifestyle Media's Toronto SEO Services.
On-Page SEO FAQ