What if I told you that keyword research is the most important step for an SEO campaign?
Keywords form the foundation of any SEO or local SEO strategy, which is why you should invest time to research the right keywords to use.
Especially if you have a new website or just starting out.
Everyone has their methods when it comes to keyword research and that's why you should understand everything about this process so that you too can create a strategy you find suitable.
In our guide today, we show you how to do keyword research for SEO. From how to find keywords to the ways you can determine the right keywords to generate content for.
We will start by defining what keyword research is:
What Is Keyword Research?
To put it in simple terms, keyword research is the process of discovering common words and phrases that your target audience uses in a search engine such as Google to find your content or products/services.
Why Keyword Research Is Important For SEO?
For SEO, keyword research helps you understand what is important to your audience and what they value. It helps you discover common words and phrases that your audiences use to look for content, products, or services that you are offering.
By discovering what these keywords are, you will be in a better position to target them, create and optimize content around them, which gives you an opportunity to increase your ranking on search engines where your audience can see you.
The practice of selecting the right keywords to target can significantly impact your organic page rank in search engines. 75% of internet users never go past page 1 of the search results. This proves that choosing the keywords to target are a significant factor in organic rankings.
With keyword research, you will discover topics to write about that are relevant to your industry and target audience. Therefore, potentially bringing in more traffic to your site. Optimizing for relevant keywords will not only attract visitors to your site but attract quality traffic.
When your content is what people are looking for, they are likely to take action. Keyword research offers you an insight into consumer behaviour and current marketing trends. Knowing what is important and popular to your audience will enable you to keep your content relevant.
How Can Keyword Research Attract More Traffic to Your Website?
Conducting keyword research will help you discover the right keywords to use for your campaign.
Some keywords have high search volumes that are very competitive because many websites target them.
And some have less competition, but have less search volume – these are the keywords you should target (more on keyword selection in a later section).
Targeting these types of keywords will not only boost the traffic coming to your site but also enable your pages to rank higher on search results.
But first, we need to plan for our keyword research process.
Planning for Keyword Research
Before you begin the process of researching for keywords to use, you need to ask yourself the following question;
Who is searching for these terms?
The answer to this question will help you understand who your target audience is, and thus, you can narrow down your search to that specific audience.
For you to increase website traffic and conversions, the content you create or optimize around your keywords needs to be very specific to your target audience.
Otherwise, you will be getting visitors who never take the action you hope for on your website.
When are people searching for these terms?
There are seasonal products or services. And by answering this question, you will know when the best time is to post content related to the keywords that people are using at the moment.
For instance, you wouldn't want to write content about the 'best snowplows' during the summer.
Who is actually looking for a snowplow in the summer?
How are people searching for these terms?
In this question, you will be looking for the specific way in which your target audience searches for your content or offerings.
Maybe they are typing 'best plumbing companies' instead of 'best plumbing contractors." You should phrase your keywords in the same way your target audience is searching for it to rank.
Why are people searching for these terms?
Understanding why people are searching for certain keywords or phrases will reveal the intent of the searcher.
In most cases, this will guide you to understand if your target audience wants to purchase something or if they are looking for more information.
For instance, if you are trying to optimize for a keyword like "chiropractors," is your target audience looking to compare reviews of chiropractors near them or are they looking for more information on what chiropractors do?
Therefore, knowing the intent behind a keyword will help you tailor content that answers your target audiences' search queries.
Where are potential customers located?
This applies more to local businesses that are targeting local customers. If you want to target people in your locality, you have to use geo-targeted keywords – keywords that target a certain location.
For instance, if you do kitchen renovations in Toronto, you will be looking to get customers within your locality. Therefore, you will be targeting keywords such as 'kitchen renovations in Toronto'.
How can you provide the best content for these terms that people are looking for?
Once you answer the above questions, the next thing to do is determining the best way to deliver your content.
Will you deliver your content in review format, FAQ format, infographics, videos, or blog articles?
There are many ways in which you can deliver content to your customers, and it is up to you to understand what your audience is searching for and the best way to deliver content that answers their queries.
Now that you have an understanding of what to consider before starting your keyword research, let's discuss types of keywords;
Understanding Keywords: Short-Tail Vs. Long-Tail Keywords
There are probably a few keywords you already have in mind that you would like to target and rank for. These keywords will be your product/services or whatever your website offers and that's a great way to start your keyword discovery phase.
There are two major types of keywords:
Short-tail keywords – these have 3 or fewer words. Examples include 'SEO tools', 'best keyword tools', etc. Short tail keywords are also called 'head terms.' In most cases, they are highly competitive and difficult to rank for.
Long-tail keywords – these are keywords with more than three words. They are more targeted and have lower search volumes than short-tail keywords. Therefore, they may not bring in as much traffic, but the traffic they bring is more targeted and qualified. Examples of long-tail keywords include 'how to do keyword research for SEO," 'best keyword research tools for SEO'.
You don't need to target just any keywords with high search volume; you need to target keywords that are niche or industry-specific to your business. It is important that you optimize your content to match these keywords.
It is important to note that people aren't typing up one-word queries to answer their questions or solve their problems. They are searching for specific answers to their questions.
When you are getting started with your online marketing campaign- whether you are doing affiliate marketing, content marketing, or you are launching a new product, it can be difficult to rank for short-tail keywords relating to your niche.
This is because so many sites with high authority have optimized for that keyword, and it may be hard to outrank them in search results. We'll get into how you can find long-tail keywords suitable for your SEO campaign later in this guide.
After discovering the long-tail keywords you want to target, you can then narrow down your keywords to be as specific to your site and products/services as possible.
Keywords are only valuable when they are relevant to what you are offering and can provide you with a positive ROI. One way of determining the profitability of a keyword is by looking at the search volume.
What is search volume?
Search volume is the total number of searches a phrase has received on a search engine. It is expressed as the average monthly volume in the last 12 months.
The higher the average search volume for a specific keyword phrase, the more people will have ranked for it, and thus, the more difficult it will be to rank for it.
Websites with higher authority online usually target such keywords to rank in top 10 results. That means if you are just starting out, it will be an uphill battle to rank for the same keyword.
In other words, the higher the search volume, the more the competition and the greater the effort you will need to achieve a higher ranking in organic search results.
If you have a new website, you should focus on finding keywords with a lower search difficulty or go for long-tail keywords that are niche-specific to get highly-targeted traffic.
Search volume data is essential in your SEO strategy. And this is where keyword research tools come into play. We will talk about this in greater depth later on.
First, we need to understand how your target audience wants to consume information.
How Do Your Searchers Want to Consume Information?
Different keywords have different formats that suit them, and this is dictated by the intent of the searcher. Here are different intents by searchers which you should consider when formatting your content;
Informational queries– when a searcher uses these keywords, they are looking for more information about something.
Navigational keywords – these are used when the searcher wants to go to a specific place on the web. For instance, Facebook or the homepage of a website.
Transactional queries – these are used when the searcher has already decided on making a purchase or taking an action.
Commercial investigation – used when a searcher is comparing products/services and want to know which is the best one for them.
Local keywords – these are used when a searcher wants to find something in a local place. For example, barber shops near me.
By knowing the intent of the user, you will be in a better position to come up with content that best answer their queries. Now that you know the difference in how searchers want to consume content, how can you target them the smart way?
Targeting Interest and Intent
Virtually all digital marketers know the importance of keyword research and compiling a good keyword lists for SEO. However, finding topics to write content about with the keywords you've compiled is another step.
As we explained earlier, there is an intent and interest behind every keyword, and this is what you should understand to create content that is geared towards that intention.
Here are the categories of keywords and their effectiveness when it comes to conversion;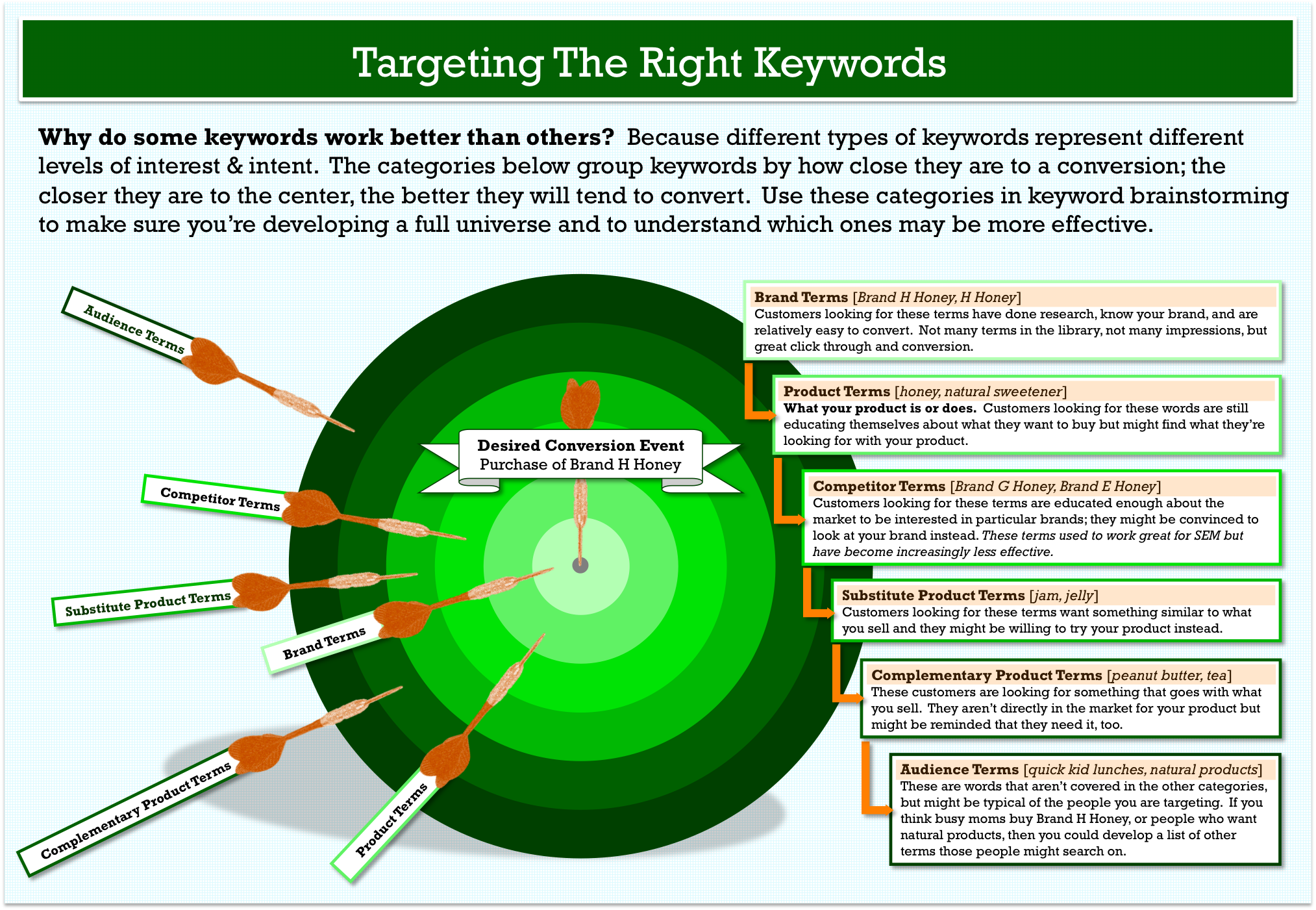 Brand Terms
In terms of conversion, keywords related to a brand might not have high page views or impressions, but they have the best conversion. This is because it is easier to convert people who already know your brand.
Product Terms
These are keywords related to your product/service or what your product/service solves. The list of keywords relating to this may vary depending on the products/services you are promoting. People who are using these terms may not convert as much as those using brand terms, but you can win them as well.
Competitor Terms
Creating content around keywords your competitors have used can help you win more customers, but you will need to optimize your content and build more quality backlinks to rank higher.
Substitute Product Terms
These are things that can be used in place of the product/service you are promoting. For example, if you are selling cotton t-shirts, you can consider optimizing for 'cotton-polyester t-shirts' or 'tri-blend t-shirts'. They may not have a lot of search volume as your main product, but they are worth the consideration.
Complementary Product Terms
These are things that go with your product/service. For example, if you are a plumber and you are offering to fix clogged drains, you can promote drain cleaning.
Audience Terms
This category of keywords covers everything that people in your niche are searching for. The search volume for these terms can be high, and thus, it can be tempting to try all of them, but you need to prioritize.
Use these categories in your keyword research topics to ensure that you are developing a full understanding of which keywords may be more effective.
Let's now get to the practicality of keyword research.

Popular Keyword Research Tools to Use
There are many keyword research tools available, free or paid. Here are some tools that you can try;
1. Google Keyword Planner
This is a great tool to use when you are beginning to search for keywords. It provides the most reliable source of keyword information online because it pulls the data straight from Google.
However, it is meant to be used for Google ad campaigns. Even so, you can still use the Keyword Planner to generate a list of keyword ideas to find search queries that have a lot of search volume.
Enter your head keyword and you will get a list of relevant keywords, their search volume, and traffic forecast.
2. Keywords Everywhere
This is a free keyword research tool displaying keyword ideas from various places on the internet, including Bing, Youtube and Amazon.
The only thing you need to do is download and install the Chrome extension. Once it is installed, you will notice that the next time you visit a site that Keywords Everywhere integrates with, you'll see a list of keyword ideas and the data on each keyword.
3. Ubersuggest
Ubersuggest is a free tool and there have been continuous upgrades to make it better.
This tool generates keywords ideas as well as providing data for each keyword (search volume, cost-per-click, keyword search difficulty to name a few).
Ubersuggest even provides you with a list of keyword ideas that are relevant to the one you are researching.
4. SEMrush
SEMrush's Keyword Magic Tool is a great tool to use for keyword research and to generate keyword ideas.
The Keyword Magic Tool provides various data that most keyword research tools offer, but also shows you the search engine result pages (SERPs). This allows you to see what kind of content is created for specific keywords you are researching.
In addition, this tool allows you to segment your keywords by topic. You will be able to see keywords semantically related to your initial search and organize them into groups by search topic.
5. Ahrefs
Ahrefs Keyword Explorer is a popular keyword research tool that will give a lot of helpful data for each keyword.
This tool pulls data from 10 different search engines such as Youtube, Amazon, Bing, etc. By using clickstream data from these search engines, you will be provided with accurate search volume for keywords.
While having accurate search volumes, you will also find keyword suggestions, advanced SEO metrics (return rate, clicks per search %, etc), keyword difficulty, the estimated number of clicks and much more.
Watch this video to learn how to use Ahref's Keyword Explorer for keyword research:
These are just some of the keyword research tools you can use in your keyword research.
Now, let's talk about a framework you can use to do keyword research.
Keyword Research Framework
It is true that everyone has their way of doing research, but there is a common framework each method follows. In this section, we will talk about the process of how to do keyword research:
1. Start with seed keywords
Seed keywords are foundation keywords that cannot be changed or modified. They define your offering.
If you already have a business or product that you are promoting, you can generate seed keywords easily by describing your products with your words or thinking about how people might search for it.
For instance, you are offering roofing services, what kind of Google searches would you think of? You'd probably search for:
residential roofing;
commercial roofing;
roof repairs.
This is straightforward, right?
However, if you are looking to venture into affiliate marketing and you have no idea where to start or what to promote, there are two approaches you can take;
a) Monetization-first approach
There are different ways you can spot monetization avenues. For instance, you can head to Amazon, a popular place where you can get affiliate programs, and see the products you are willing to promote.
Another option is to search for affiliate marketplaces such as ClickBank. These sites connect product owners with affiliates. Once you identify your desired product, review them, and insert affiliate links in your reviews.
b) Niche down approach
This is where you pick a broad keyword and narrow down to a specific niche. For example, you can pick 'shoes' as your broad niche, then head to Ubersuggest where you key in that seed keyword.
With a simple search, you will find keyword ideas that are much more specific. You can see that you can niche down to men's, women's or kid's shoes, or even niche down further to a specific type of brand.
2. Generate Keyword Ideas
After identifying the seed keywords to target, the next step is to generate keyword ideas while considering what your target audience is looking for. You can do this in different ways including;
Google Search Console
A great place to find keywords are in your Google Search Console. You will be able to see what keywords you are already ranking for, which is a great opportunity for you to optimize your existing content to target long-tail keywords.
Google Search Console gives you the average position of the keywords you want to rank for, the number of clicks and impressions they are getting.
Analyze Your Competitors
Leverage your competitors' keyword research by seeing what the keywords they have ranked for. Then, hand-pick keywords you think would be worth targeting.
To find out who your competitors are, key in your seed keywords into Google and see who ranks on the first page.
Let's use an example of a dental office in Toronto. We'll take a look at what keywords a first-page search result ranks for after searching for 'dentist in Toronto'.
After entering the domain into Ubersuggest, we can see what kind of keywords the site is ranking for.
We found a lot of interest in keywords relating to cavities. If you own a dental business, you can invest a little time in researching and potentially optimizing for keywords such as 'getting a cavity filled'.
Use Keyword Research Tools
When it comes to keyword research tools, there are free tools and premium tools. One example of a free keyword research tool is Ubersuggest. This tool can help provide related keywords to your primary keyword.
Most free keyword research tools generate a brief list of keywords. Therefore, if you are trying to generate a broad range of keywords, investing in premium keywords research tools such as Ahrefs should be considered.
Use Google and YouTube autocomplete
Google autocomplete offers a quick way to get long-tail keyword variations. Just type your head term into Google search box, and Google will automatically provide suggestions for your query.
These suggestions provide you with popular search terms that people are already asking, providing you with content ideas.
Use Google's Related Searches
When you type your primary keyword in Google's search box and hit search, you will get related searches at the bottom of the search result page.
Here, you will get additional suggestions from the ones you got in Google autocomplete.
Forums and Boards
Forums are another great place to find keyword ideas. You will find people asking questions related to your niche. You can come up with content that answers these questions.
Reddit is a great place for you to discover keyword ideas. Many people head to this social news platforms to discuss many things.
For example, maybe you run a website that sells natural health supplements.
Go over to Reddit, then search 'health supplement'.
Then, select a subreddit where your potential audience might be engaging in.
Next, try to find threads with lots of comments.
For this example, you can include 'does creatine cause hair loss' to your list of keywords ideas.
Wikipedia table of contents
Wikipedia can provide you with a wealth of valuable keyword ideas. To do this, go over to Wikipedia and key in a broad keyword:
You will be brought to a Wikipedia entry for that broad keyword topic.
Look for the 'contents' section where you will find subtopics covered on the page. Under content, you will see plenty of keyword ideas highlighted.
You will find a range of subtopics relating to your seed keyword. Explore these subtopics even further and you will be able to find a ton of topics to write about or keywords to optimize for.
3. Keyword Difficulty
This is a great way to understand which keywords to target. As we discussed earlier, there are keywords with higher search volumes but are difficult to rank because of how many other websites are targeting them.
That's why considering keyword difficulty is very important. If a website is ranking for a particular keyword you want to rank for, take a look at how many backlinks the site has.
For example, let's say a plumbing company wants to create an article on 'how to unclog a toilet'. Let's take a look at the top-ranking pages on the search results for that keyword:
We'll check out how many backlinks artofmanliness.com has for this article.
Using Ubersuggest, we can see that the article targeting 'how to unclog a toilet' has received 10 backlinks. This means you have a pretty good chance at ranking for this keyword.
However, the more quality backlinks a site has acquired, the harder it will be for you to outrank them.
Therefore, target keywords that have significant search volume and low competition. These keywords will probably be long-tail keywords.
Many of the keyword research tools we have discussed can help you discover these stats for keywords.
4. How to Choose Keywords
Low-Hanging Fruit
As mentioned earlier, take advantage of your Google Search Console to discover what keywords you are currently ranking for.
Since you are already ranking for certain keywords, why not optimize the content you currently have for those keywords? Or you create more content that targets those keywords.
Either way, these are some of the best opportunities for you to rank higher for the keywords your site is ranking for.
Search Volume
Look for keywords that have high search traffic. But what is a good search volume? That is dependent on the industry as search volume varies between different niches.
For instance, a long tail keyword in the fitness industry such as 'best chest workout' gets around 1000 searches per month:
On the other hand, a long tail keyword in the digital marketing niche like 'best free keyword research tool' gets around 90 searches per month:
It is a good idea to find out what a high and low search volume is in your industry. Take your time to study this, then choose keywords based on the norm for your industry.
Organic Click-Through Rate
The number of Google users clicking on an organic search result has been decreasing because of various reasons.
Featured Snippets provide you with answers to your queries, so you don't have to click on anything to find your answer.
Also, Google is showing more and more ads on searches.
So what does this mean?
Search volume is just part of your keyword research process. To fully understand how many clicks you may get from a first page Google ranking, you will need to discover the estimate organic click-through-rate.
To do this, you can simply look at the SERPs for the keywords you want to rank for.
If you see Featured Snippets and multiple Google Adwords, then you can probably guess that you won't be getting a lot of clicks.
Another way to find an estimate for organic click-through-rate us using a keyword research tool such as Ahrefs or Moz Pro.
Don't let low organic-click-through rates keep you away from a keyword, though. If a keyword has a lot of search volume, it still might be worth targeting.
Difficulty
We covered this earlier in the guide, but to summarize:
Target keywords with decent search volume and low competition, especially if your website is new or doesn't have many backlinks yet.
Once your site starts to grow in authority, you can begin to target more competitive keywords.
CPC
CPC or cost-per-click lets you know whether or not people searching for a certain keyword spend money.
Considering CPC in your keyword strategy allows you to see which keywords may actually provide an ROI.
This is why search volume isn't everything when it comes to your keyword research.
If a keyword has a mediocre search volume but has a high CPC, this means that your competition is spending that amount every time someone searches for that keyword and clicks on an ad.
Let's say you're a plumber in Toronto offering services to fixed clogged drains. You might want to consider the keyword 'clogged drain toronto':
You can see that the search volume per month isn't that high at 320. You'd probably think that you should use a keyword with a higher search volume.
But take a look at the CPC. The CPC is $26.69.
This means that your competitors are spending $26.69 every time someone searched for this keyword and clicked on their ads.
That is why considering CPC is important in the keyword research process.
Business Fit
When choosing keywords, you have to consider whether or not someone searching for the keyword you want to target will become a customer.
CPC can help you figure this out, but you need to consider understand which keywords will help you attract and convert customers.
Let's say you own a small roofing company and you came across the keyword 'commercial roofing'. It has a decent search volume and high CPC.
Looks like the perfect keyword to target right? It definitely is.. if you provide commercial roofing as a service.
But as a small roofing company, you may not offer commercial roofing as of yet. So maybe a keyword like 'residential roofing' is a better target keyword for your business:
This keyword has a lower search volume but still has a high CPC. This is a keyword that would be great to target as a small roofing company because residential roofing is a service you actually offer.
Remember, the goal is to target keywords that can provide an ROI for your business. Therefore, determining the business fit of a keyword is important.
Keyword Trends
This is where you see if your target keyword is growing in popularity or losing its trend.
With Google Trends, you can look for trends for the keywords in your niche and use a keyword research tool to find other keywords related to the trends.
The best tool to figure this out is Google Trends.
For instance, let's say you own a rehab and wellness center in Toronto and you come across the keywords 'chiropractic toronto' and 'chiropractor toronto':
As you can see, the search volume and CPC are the same. The search difficulty is pretty much the same too.
So how do you know which keyword to choose?
This is where you can use Google Trends to help you choose. It will show you which keyword has more interest in it:
Here you can see that 'chiropractor toronto' has more interest over the last 12 months. So you can choose this keyword over 'chiropractic toronto'.
5. Group your list of keywords
To maximize your returns, you should not target only one keyword on one page as you can rank for several related keywords. To know the keywords to target on one page, use the following criteria;
Group by 'parent topic.'
This involves grouping keyword that relates to your target keyword.
For example, this article is targeting 'keyword research'. To see what other keywords we can rank for, enter in the number 1 ranking page on Google for that keyword in a keyword research tool:
Right away, you'll be able to find keywords with decent search volume and high CPC.
Instead of creating separate articles to target these keywords, you can target them in a single post.
Group by intent
As we mentioned earlier, behind every keyword phrase, there is an intent, and your goal is to know the expectation of the user to create content that matches their intent.
To figure out the intent behind a keyword, run a search on Google, and see what comes ups.
Let's use the 'keyword research' as an example again:
Here you can see that most of the results are keyword research guides or how-tos.
So in this case, we want to be able to help solve the searchers' query by explaining how to do keyword research.
Once you figure out your searcher's intent, you will know if it is a problem you can solve, a product you can promote, or a brand that needs more awareness.
Group by business value
Not all keywords you find are meant to be targeted since some will not lead to an ROI.
If you are looking to raise your brand awareness or more traffic to your site, you can focus on keywords that have high search volume even if they have a low conversion rate.
But if you want to drive more sales and leads, try to place your focus on finding keywords with commercial intent.

5. Prioritize
This is more of an obvious step but worth mentioning. In the course of discovering keywords, analyzing their difficulty, and grouping them, you should be noting down the following things;
Traffic potential of the keywords
How difficult will it be to rank?
How many resources will be needed to create content around the keywords and promote it?
What will be the ROI of the investment?
Are you gauging this with raising brand awareness or by sales and leads?
These questions will help you understand which keywords to target for your business.
Conclusion
Keyword research is the most important and can be a time-consuming task when it comes to SEO.
Choosing the right keywords to target and optimize for your business will give you an edge over your competitors when it comes to users searching for your products or services.
Therefore, take time and conduct in-depth research on the keywords you can target in your niche.
Next Steps: Use These Keyword Research Tips
Get ahead of your competitors and use these keyword research tips to your advantage to boost your online presence for your business.
Get started today and improve your business by finding keywords that will help bring in leads.
If you don't have the time to do intensive keyword research for your SEO campaign, feel free to send us an email. We would be happy to help.
Find out more about Lazaro Lifestyle Media's Toronto SEO Services.
Keyword Research FAQ